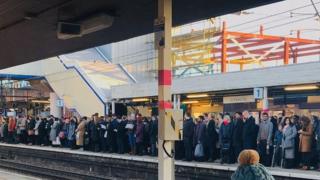 Rail commuters on Thameslink train services were disrupted because of a damaged overhead wire.
Two of the four lines between London St Pancras and Bedford were closed during the morning rush hour.
Thameslink initially expected disruption to last all day, but Network Rail's engineers repaired the wire more quickly.
Passengers are still being advised to check before they travel.
London Underground commuters on the Metropolitan and Jubilee lines were also caught in separate major disruption.
A broken down train near Neasden meant both lines had to be closed between Wembley Park and central London.
Thameslink commuter Linzi James, from Harpenden, said: "Currently on train rammed full of people, that's not moving. Not a good start to the day."
She added overhead lines were "constantly failing" and "the impact on people is enormous".
The Labour MP for Bedford, Mohammad Yasin, said the service was "no better" than Northern Rail, which is being taken into government hands.
"I met the rail minister a couple of weeks ago and mentioned all this and urged him to look into this case urgently because the people of Bedford are suffering," he said.
Jenny Saunders, from Thameslink, said: "Overnight there was significant damage to the overhead lines that provides power to our trains just south of Luton."
There will be a "full investigation" and extra staff are on site to help, she said.
"It's not an acceptable service that we are delivering for our passengers this morning and it is imperative that Network Rail and Thameslink continue to work together over the coming weeks and months to understand what is happening when incidents like this cause disruption," she added.
A spokesperson for Network Rail said: "We apologise for any inconvenience this disruption may cause.
"We are working hard to resolve the issues as fast and as safely as possible."